Baz Anderson sent me this Friday and, due to a flurry of excitement and silliness, I just never got to post it. So, he mentions Friday and, because I hate to edit a writer, I'm leaving it in there even if it's clearly Monday. It's my fault and I deserve never to have him guest blog again (but hope he will because I have come to adore him. ::grin:: )

It's Friday. A new week has come in like a dove, and then fallen to the floor like a stuck goose – making whatever noise stuck gooses make. But take heart! There is one grand lady of flight that will not let us down, and that is The Enterprise.
Not only has a new trailer been released to feast our eyes on until its release in a couple of months, this beautiful new model of the re-booted starship of our dreams now graces the pages of Entertainment Earth.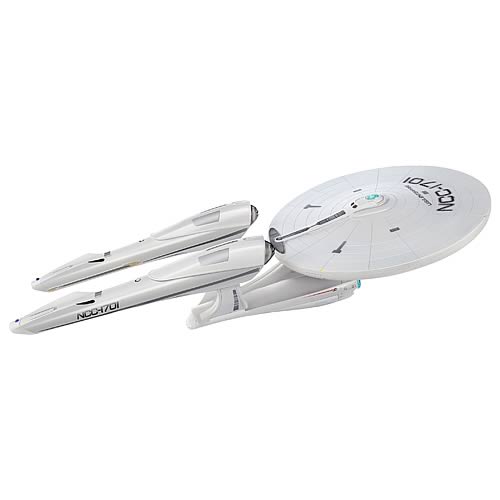 It's slick, sweet, retro and yet tomorrow. It looks like Hollywood may have pulled of another reboot. We will have to wait and see. But as I sit here in my broken barcalounger, spray painted silver with faux jewels in the armrests to simulate comm buttons, I can take heart knowing that they've got my beloved ship right. They did the old girl proud.
I'm sure I won't be the only one at Klingon language camp this year who has one of these, but I can be pretty sure I'll be the only one who's wrapped it in swaddling clothes, sung it a lullaby and rocked it to sleep.
New franchises must be nurtured. Don't let any marketing pujwI' (weakling) tell you otherwise!
Baz Anderson is the creator of PopCultureOfDestruction.com